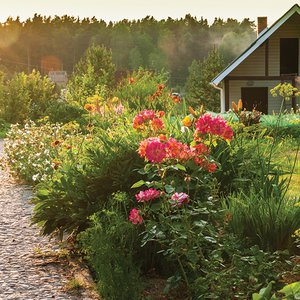 Design Your Own Backyard Paradise
August 23 & 30
LOCATION:
Red Butte Garden Classroom
INSTRUCTOR:
Mindy Mortensen
COST:
DESIGN YOUR OWN BACKYARD PARADISE
August 23 & 30
Wednesdays
6:30-8:30pm
Do you dream of having a backyard paradise to enjoy with your family and friends? This class will help you with just that. Learn basic design principles, great plants for Utah, and how to create a master plan - enabling you to move forward with your backyard dreams! Come ready to learn the ways of implementing and maintaining a beautiful yard in Utah!
Get to know your instructor:
Mindy Mortensen is a botanist and loves teaching about plants and feels passionate about helping people grow their own food! She started her career as a botanist right here at Red Butte Garden just under 24 years ago!  She lives in Pleasant View with her husband, 4 kids, 40 chickens, 1 turkey, 7 ducks, 3 cats, 1 dog, 2 snakes, 1 lizard—a complete zoo!