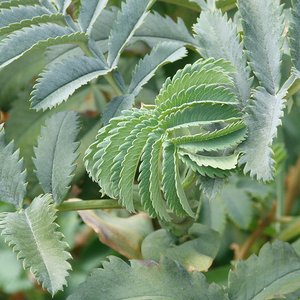 Science and Houseplants: a Botanical Foray into Plant Cohabitation
July 28, August 4, 11, 18, 25 & Sep 1
LOCATION:
Red Butte Garden - Kay and Zeke Dumke, Jr. Horticultural Operations Center
INSTRUCTOR:
Evelyn Linford
COST:
Garden Members:
$168 (Includes $30 lab fee)
General Public:
$210 (Includes $30 lab fee)
SCIENCE AND HOUSEPLANTS: A BOTANICAL FORAY INTO PLANT COHABITATION
July 28, August 4, 11, 18, 25 & Sep 1
Fridays
6-8PM
Dive into plant biology as it relates to house plants. This class is for all skill levels and knowledge havers, from brown thumbs to house plant pros. The science has been translated to a more casual language making this course extremely accessible for people who have little to no biological science experience. This class heavily leans on botanical science as a way to improve your skills and understanding of keeping plants indoors; from cellular biology and plant structures, to the ecology and habitat of potted plants. Learn how to identify and manage pests and disease, to pick the right plants for your lifestyle, force flowering, control plant size and shape, dissect plant parts, use a microscope, and other "plant life hacks". This class will work with live plant matter so that you can have hands-on experience with trickier plant care such as propagation, pruning, flowering, repotting, fertilizing, and more. We will look at plant cells, tissues, organs, chemistry (in a fun and very easy way to understand), adaptations, plant senses, and behavior. Please come with questions!
Get to Know Your Instructor:
Evelyn is a botanist and artist who has a deeply rooted passion for all things plant. In childhood a strong curiosity of life and joy in learning was nurtured by her sister and mother and has followed her through to adulthood. Evelyn has studied at Weber State University, the only University in the surrounding states to offer a Botany Undergraduate degree. She has completed her botany courses and is working on a minor in art, and expects to graduate in 2024. She has conducted three different undergraduate research projects on honey bee pollen collection, the effects of extreme heat on tree cellular anatomy, and lodgepole pine predation by bark beetles. She is equally comfortable in both laboratories and the field. Evelyn is working towards becoming a high school biology teacher and in the meantime draws, paints, and dyes her way through botanical illustrations and botanical signs. Her favorite botanical topics are plant cellular biology, plant physiology, plant behavior, and plant adaptations. Her favorite family of plants is Orchidaceae, the orchid family which includes 16 species that are native to Utah's mountains and valleys. Evelyn hopes to spark a love for plants and science in anyone who will listen. While obtaining a degree is an excellent way to have access to resources it is not necessary to be a scientist. Evelyn did not learn how to do math until her early 20s, and knows that practice and open mindedness is what develops skills, and not talent. Citizen scientists are an invaluable resource and can conduct important research outside the tradition of academia. Evelyn wants to make botany an accessible and enjoyable endeavor for anyone willing to try.