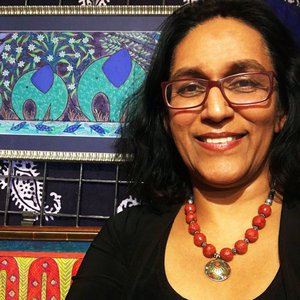 Shami Kanekar Art Exhibit
Feb 24 - April 3
LOCATION:
Red Butte Garden
ADDITIONAL INFO:
COST:
General Public:
Admission not required to shop
SHAMI KANEKAR ART EXHIBIT
Feb 24 - April 3
Meet Shami Kanekar and learn more about her work at the artist reception on March 4 from 2-5 PM.
Shami Kanekar artist biography:
I am a self-taught artist. I create stylized floral animal and abstract designs using watercolor, acrylic paint, and oil pastel.
Painting is a form of deep meditation for me, centering me and removing me from the chaos of everyday life. I seek to create art which is peaceful, while being full of color and life. As a gardener and life-long admirer of plants, I feel constantly inspired by plants and flowers around me. Colors and shapes of flowers and leaves on summer walks. Textures in drying grasses as I hike in the fall. These seep into my consciousness and art happens! My work is often influenced by traditional folk art of Southeast Asia.
More information http://www.shamikanekar.com/