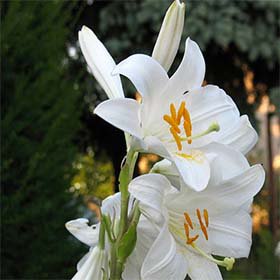 101 Plants To Know at Red Butte Garden
APRIL - OCTOBER
LOCATION:
Red Butte Garden
INSTRUCTOR:
Jake Eiting
COST:
101 PLANTS TO KNOW AT RED BUTTE GARDEN
APRIL - OCTOBER
This is a seven-class series:
April 20, May 18, Jun 15, Jul 20, Aug 17, Sep 21, and Oct 19
Thursdays, 6-8 PM
REGISTRATION REQUIRED
Do you wander the aisles of the garden center and become overwhelmed by all of the choices? Before spending hundreds of dollars, would you like to know what certain shrubs, perennials, or trees could look like in ten years? Then this class is for you.
Join us for this three-season course as we look at 101 truly remarkable plants suited for the Wasatch Front garden. We will discover plants starting with spring bulbs and conclude with trees and shrubs that bear great fall color, and everything in between. Each class will cover topics such as plant identification, cultural requirements, and how plants are best used in the garden.
We will walk the Garden each class to take an up-close look at the various plants as they are discussed. Perfect for novice gardeners and plant enthusiasts alike, this course is sure to widen your plant palette and introduce you to some truly unique and amazing plants! Classes meet on the 3rd Thursday of each month.
Get to know your instructors:
Jake Eiting is a horticulturist in the first impressions garden at Red Butte Garden. Before joining the Red Butte team, Jake used his degree in Botany from Weber State University working as a field botanist to collect data on soils and native plants throughout Idaho, Nevada, and Utah.