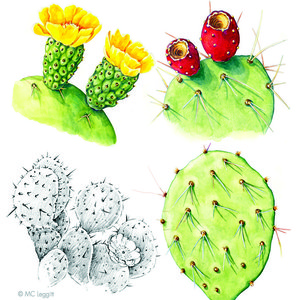 Waterwise Plants in Mixed Media
May 31 June 7, 14, 21
LOCATION:
Online via Zoom
ADDITIONAL INFO:
A material list will be sent to all registrants.

INSTRUCTOR:
Marjorie Leggitt, School of Botanical Art & Illustration, Denver Botanic Gardens
COST:
WATERWISE PLANTS IN MIXED MEDIA
May 31 June 7, 14, 21
Wednesdays, May 31 June 7, 14, 21
9AM-12PM MST
Arid climates across the world support a unique array of plants that have adapted to these harsh conditions.
This workshop begins with an introduction by Eddy Dawson, Director of Programs and Botanist at Red Butte Garden. Learn about desert plants and the unique characteristics and adaptation to survive in arid and dry environments.
Through demos and exercises, learn how to combine the expressiveness of a pen with the subtle colors of watercolor. Discover non-traditional pen and ink marks to create unique textures and forms. Practice color mixing and watercolor layering to enhance the line work and capture earthy, luminescent colors. Review of the "Elements and Principles of Composition" will help guide your design. Apply your new skills to create a wonderful mixed media piece highlighting a waterwise plant of your choice.
ZOOM link will be sent via email the day before classes start.