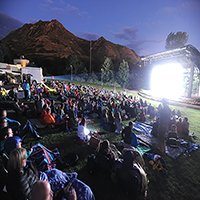 Garden Member Block Party
2024 Date To Be Announced
LOCATION:
Red Butte Garden Amphitheatre
ADDITIONAL INFO:
Garden Member Benefit Event
COST:
GARDEN MEMBER BLOCK PARTY
2024 Date To Be Announced
Thank you for making our 2023 Member Block Party a success. See you next summer!
Join us In the Red Butte Garden Amphitheatre for evening of yard games, crafts, live music, snack, and a movie on the big screen for the whole family. Pack a picnic, and don't forget to bring your low-back chairs or blankets to sit on.
2024 event details to be announced
Garden members, please RSVP at the green registration link below.
The number for your RSVP is limited to the number of guests normally allowed with your Garden membership level.
To access additional RSVP opportunities, please upgrade by calling us at 801-585-7172 or purchase an additional membership. 
If you do not receive a confirmation email after you complete your RSVP, please contact membership@redbutte.utah.edu
The Red Butte Garden Amphitheatre is located at the mouth of Red Butte Canyon. Please dress for the weather, even on the warmest days it can get breezy and chilly at night. Bring your jackets, socks, hats, and layer up.
Registration opens: 2024 date to be announced