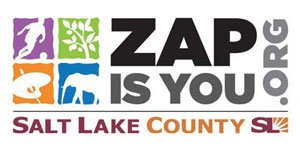 ZAP FREE ADMISSION DAYS
Thanks to funding in part by Salt Lake County Zoo, Arts, and Parks Program (ZAP), guests can enjoy six days of free Garden admission.
---
Friday, April 28, 2023
Join us for a fun day of activities and interactive exploration stations throughout the Garden. Our Arbor Day celebration includes a tree seedling giveaway, while supplies last, for guests who would like to take home a tree.
---

Pioneer Day - July 24
Spend time with family and friends on the holiday at Red Butte Garden with free admission all day long.
---

Labor Day - The first Monday of every September
Monday, September 4, 2023
On this day we especially acknowledge the volunteers who labor in the Garden and at events to help make your Garden visit a wonderful experience.
---

Zeke Dumke, Jr. Day - The first Monday of every October
Monday, October 2, 2023
In recognition of his visionary role in the founding and development of Red Butte Garden, the first Monday of every October is now "Ezekiel R. Dumke, Jr. Free Day."
---
Saturday & Sunday, December 2 & 3, 2023
The Richard K. Hemingway Orangerie will be filled with Utah artists with a delightful array of handmade gifts for sale. And the Annual Gift Shop Holiday Sale offers an additional 10% off all gift shop purchases.
---
More Free Garden Events