Thank you for making our annual Fall Bulb & Native Plant Sale a success. Happy planting!
Open to the public from 9am-4pm
Free entry to the plant sale through the Amphitheatre gates on both days.
Registration not required.
New Location!
This year the annual Fall Bulb & Native Plant Sale will be held in the Red Butte Garden Amphitheatre rather than the Visitor Center Courtyard.
Join us for more plants and bulbs than ever before!
Red Butte Garden Amphitheatre
2188 Red Butte Canyon Rd., Salt Lake City, UT 84108
Please park and enter through the north-facing Amphitheatre gates.
Parking map and information found below.
Support the Garden at our Annual Fall Bulb & Native Plant Sale Fundraiser. You will find spring flowering bulbs, organic garlic bulbs, native and waterwise plants, ornamental grasses, flowering perennials and more!. Fall is a great time to plant, and the best time to plant spring flowering bulbs and garlic. We will have several selections of garlic bulbs for sale, and a variety of flowering bulbs such as daffodils, fritillaria, and flowering onions, as well as a diversity of early-blooming miniature bulbs.
Although not quite as extensive as the Spring Plant Sale, we believe our Fall Plant Sale has the best selection of waterwise and native plants in one location! If you haven't come to our Fall Plant Sale yet, it's about time you did. There are so many species and cultivars of ornamental grasses, offering a variety of different sizes, heights, colors, and textures. Allow yourself some time to enjoy the Garden before shopping and see how these fabulous grasses may work in your yard.
There will also be a wide selection of flowering perennials, including selections for both sunny and shady locations, and a variety of own-root roses! Take your time to browse and bring your questions for our staff and volunteers.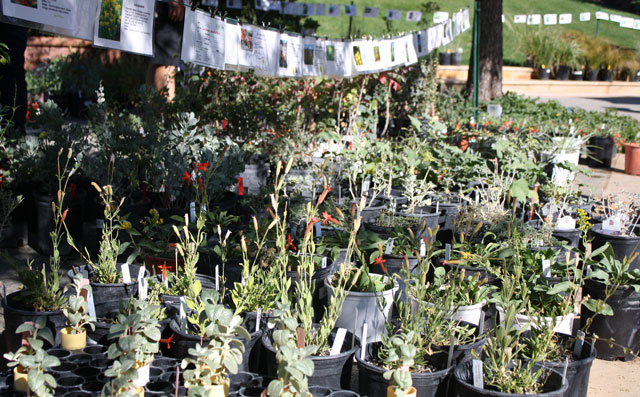 SECTION HIGHLIGHTS & PLANT LIST
SECTION HIGHLIGHTS & PLANT LIST
Please note: Some plants are in limited supply and may sell out early.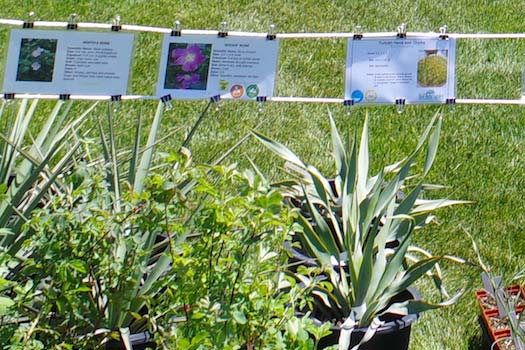 DECIPHERING OUR PLANT ID CARDS
DECIPHERING OUR PLANT ID CARDS
Interpreting the Symbols
Most plants at the sale will have plant ID cards to help you decide which plants do best in different sunny or shady locations and watering cycles in your yard, including bee-friendly, critter resistant, and high-elevation hardy plants.
CLICK HERE for a larger version.
---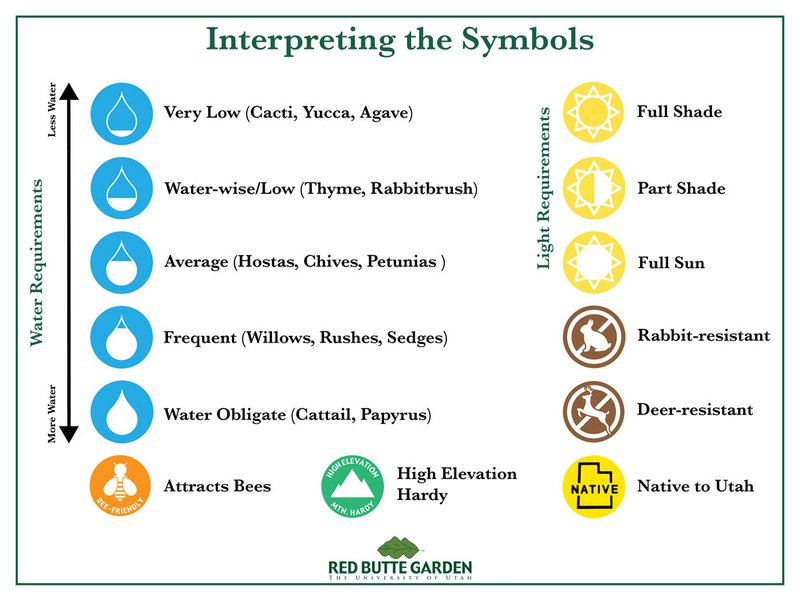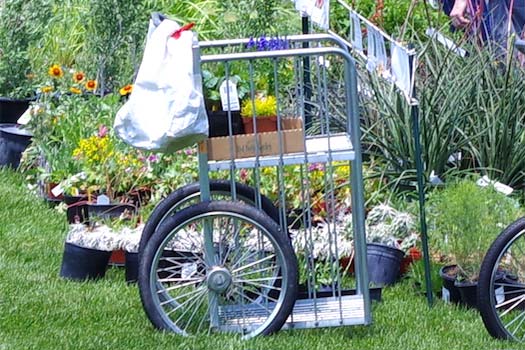 PARKING
Amphitheatre Directions
From the four-way stop sign at Chipeta and Wakara Way, turn left (or north) and follow the signs to the Red Butte Garden Amphitheatre. Enter through the north gate.
Parking
Parking is available in the lots west and north of the Amphitheatre entrance, as well as the parking garage farther to the north (parking level 5). A few handicapped parking stalls are available in the west lot.
CLICK HERE for a larger Amphitheatre plant sale parking map.
---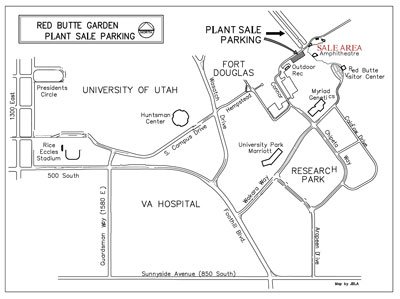 All Plant Sale Purchases are FINAL
Thank You For Supporting the Garden!