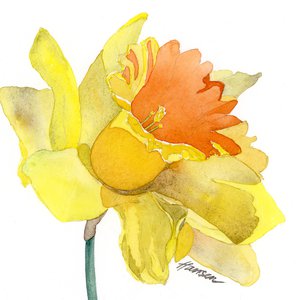 Jeanne Hansen Art Exhibit
Art By Design
April 14 - May 8
LOCATION:
Red Butte Garden Visitor Center
ADDITIONAL INFO:
COST:
General Public:
Admission not required to shop
JEANNE HANSEN ART EXHIBIT
Art By Design
April 14 - May 8
Meet Jeanne Hansen at the artist reception on Saturday, April 22 from 2-5 PM – Earth Day.
With refreshments and live music featuring Sophie Hansen on Violin.
Art By Design
A native of Salt Lake City, Utah, Jeanne studied art and design at the University of Utah where she received her Bachelors of Fine Art Degree. Her post-graduate work was at the School of Visual Arts in New York City. This experience had a profound influence on her. Art and Design merged into one. In 1979, Jeanne returned to the mountains of Utah. She now lives in the foothills of Salt Lake City where storms roll in over the Great Salt Lake. The natural world has always been an important part of her art.
"I feel it's important for artists to convey nature in such a way that people take notice of the beauty around them. Mountains express such power, contrast and strength."
Jeanne is both a Modernist and a sensitive Realist painter depending on the subject matter and what she wishes to create.
"Sumi Calligraphy painting first introduced me to watercolor. I enjoy the luminous quality of watercolor against the white light of the paper. An energy exudes. It is challenging to modulate the color before it dries. Many times it takes multiple layers to achieve the desired effect. Be prepared for the unexpected. When I look at a subject, I often find patterns of light, color and rhythm emerging. All these evoke emotion for the subject. In oil painting, I strive for strong color patterns over a luminous color base."
"In my oil paintings I look for strong patterns over a luminous color base. There is an immediacy of deep rich tone that catches the light."
Some of her important mentors in her artistic journey have been Harold Petersen, Doug Snow, Ed Maryon, Milton Glaser, and George Dibble. Jeanne Hansen is a Signature Member of both the Western Federation of Watercolor Societies and the Utah Watercolor Society. She is also a Member of Merit with the Intermountain Society of Artists.
"Watercolor has taught me important lessons in life– to be flexible and to go with the flow."
For more, please visit: www.jeannehansenart.com