Our Annual Spring Plant Sale & Fundraiser is a great way to welcome the planting season and support the Garden.
Shop twice! Once to grab those important, not-to-miss plants, and a second time to browse overlooked treasures.
Friday & Saturday, May 12 & 13
MEMBER BENEFIT DAY
Friday, May 12 from 1-8PM
Online pre-registration is now closed.

If you were unable to get a time slot, we welcome you to walk up after 5 PM.

Member Benefit Day is a benefit for cardholders only.
Individuals attending with cardholders should be members of the Garden or buying for the same household. Children 17 and under do not need to register.
OPEN TO THE PUBLIC
Saturday, May 13 from 9AM-3PM
Free entry to the plant sale through the Amphitheatre gates.
Registration not required.
EVENT LOCATION
Red Butte Garden Amphitheatre
2188 Red Butte Canyon Rd., Salt Lake City, UT 84108
Please park and enter through the north-facing Amphitheatre gates.
Parking map and directions found below.
Please note: Due to events taking place at Rice Eccles Stadium, traffic will be impacted along 500 South from 1300 East to Guardsman Way from May 1-17. If you use this route to reach Red Butte Garden, please spend an extra moment to review the city's detour information found in the Directions & Parking link below.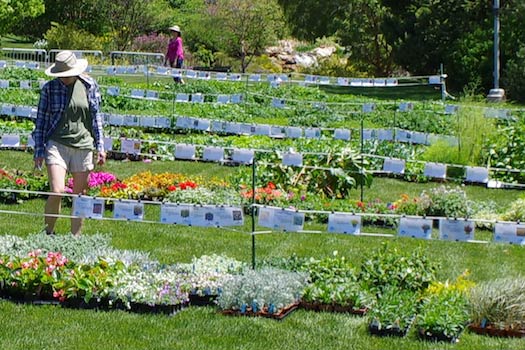 SECTION HIGHLIGHTS & PLANT LIST
SECTION HIGHLIGHTS & PLANT LIST
Click below to see a long list of plants to be offered at the plant sale this year.
Please note: Some plants are in limited supply and may sell out early.
SECTION HIGHLIGHTS
Our extensive vegetable selection this year includes over 300 different varieties. This includes 115 different tomato cultivars, 50 different peppers (sweet and hot), 45 squash and pumpkins, 30 cucumbers and melons, and a wide range of greens and cold crops. Many are heirloom selections. Quite a few of the selections have been trialed here at the Garden, so you can try the varieties our staff and volunteers have grown and recommended. We will also have a selection of smaller cultivars that are ideal for small spaces or container gardening.
Nothing beats the color of flowering annuals for the summer garden! We'll have a wide variety of colors and textures for sun and shade. We will also have an exciting assortment of succulents and interior plants. And don't forget a hanging basket or mixed planter as a great Mother's Day gift!
Stock up your kitchen with our wide selection of culinary and medicinal herbs. Find staples like English Thyme, Rosemary, and Parsley, alongside more unconventional selections such as Bay Laurel and Pineapple Sage. Make your own home remedies with a variety of plants just waiting to be made into teas and tinctures. Whatever your herbal aspirations may be, we'll help you on your way to a flavorful and fresh growing season.
We will have a special selection of perennial edibles this year including fruit trees, berry bushes, strawberries, rhubarb, horseradish and many others. Round out your vegetable or ornamental garden with a solid base of edible plants that will return year after year.
We will have over 300 different species and cultivars of perennials, including sun and shade loving. There is definitely something for every type of situation, including high elevation gardens and bee-friendly plants. Check out the 'Specialty Perennial' section if you're looking for something truly unique, and allow yourself plenty of time to browse!
Ornamental grasses add texture and movement to your garden! Often overlooked, grasses serve many functions in a garden in addition to aesthetics. Ornamental Grasses can be used as a focal point or in mass, and come in a variety of colors, textures, sizes, bloom times, and water requirements. Come choose from Bluestem, Feather Reed, Sea Oats, Silver Grass, Muhly, Moor grass and more, including selections ideal for shadier areas, such as Japanese Forest Grass and Sedges. No matter the site conditions or your personal taste we are sure to have an ornamental grass for you!
From dry shade to swampy sunlight, we have a groundcover for every growing condition in your garden. Use some of our Sedum species on a steep hillside, try Snow-in-summer for those constantly sunny and dry spots, or some charming Green Carpet as a lawn replacement. Find a low-growing flowering, fragrant, succulent, or evergreen solution to your tricky garden spaces.
Our selection of roses includes old-fashioned garden roses, modern shrub roses, miniatures, and climbers. Beautiful blooms of all colors, combined with winter hardiness and disease-resistance, make lovely additions in the home landscape. All of the roses we offer are 'own-root' (not grafted) which means although they may be small at first, your favorite rose will not revert back to a root stock variety after a harsh winter.
We offer a wide variety of flowering and shade trees, unique conifers, colorful shrubs and flowering vines. Provide shade for your garden with colorful trees big and small, introduce eye-catching textures with unique dwarf or large conifers, or border with beautiful blooms from one of our many shrubs. Come with your questions and site information and let us help you select the right plant for your situation.
For a variety of dependable and hard-to-find perennials, grasses, cactus, shrubs, and trees visit our Native Plant section. Plants in this section are native to the Southwestern US and the majority use little water. We have an expansive selection of Penstemon species as well as exclusive Cottam's Hybrid Oak trees, milkweed, and plenty more! Native plants support native pollinators and wildlife, creating a thriving habitat in your yard, and are better adapted to our climatic conditions.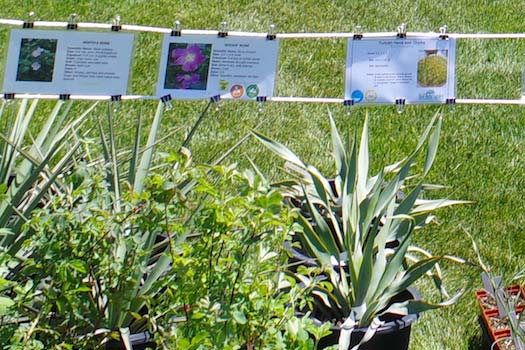 DECIPHERING OUR PLANT ID CARDS
DECIPHERING OUR PLANT ID CARDS
Interpreting the Symbols
Most plants at the sale will have plant ID cards to help you decide which plants do best in different sunny or shady locations and watering cycles in your yard, including bee-friendly, critter resistant, and high-elevation hardy plants.
CLICK HERE for a larger version.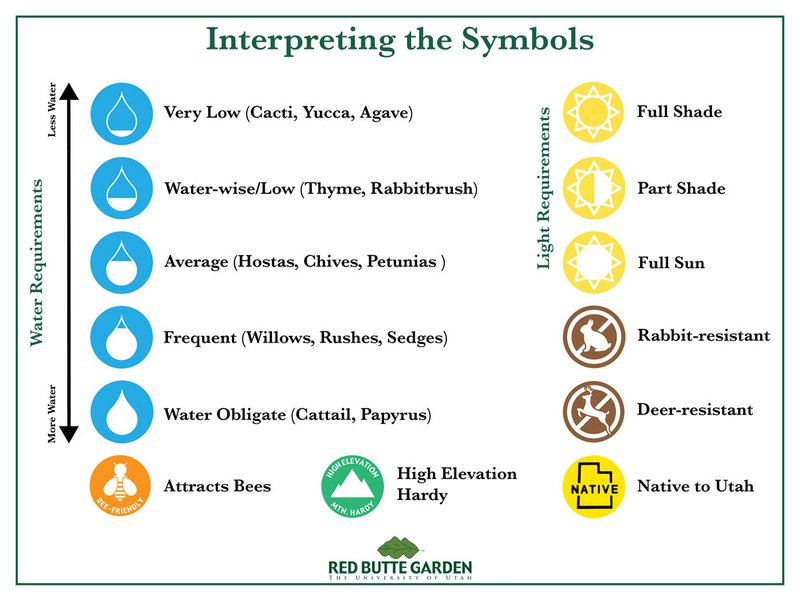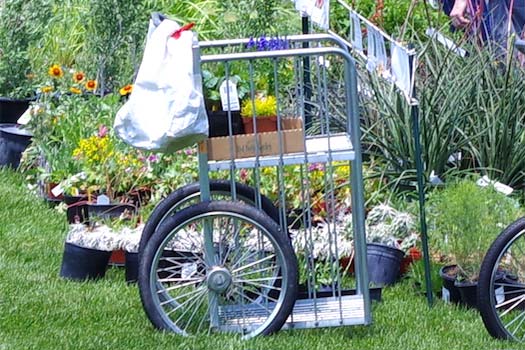 DIRECTIONS & PARKING
Amphitheatre Directions
From the four-way stop sign at Chipeta and Wakara Way, turn left (or north) and follow the signs to the Red Butte Garden Amphitheatre. Enter through the north gate.
Parking
Parking is available in the lots west and north of the Amphitheatre entrance, as well as the parking garage farther to the north (parking level 5). A few handicapped parking stalls are available in the west lot.
CLICK HERE for a larger Amphitheatre plant sale parking map.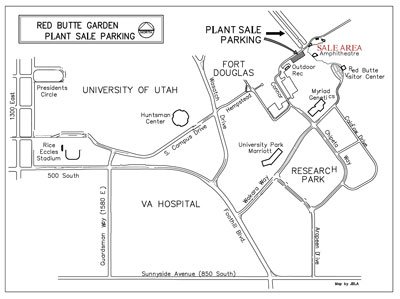 PLEASE NOTE: Due to events taking place at Rice Eccles Stadium, traffic will be impacted along 500 South from 1300 East to Guardsman Way from May 1-17. If you use this route to reach Red Butte Garden, please spend an extra moment to review the city's detour information.
CLICK HERE for a larger road detour map.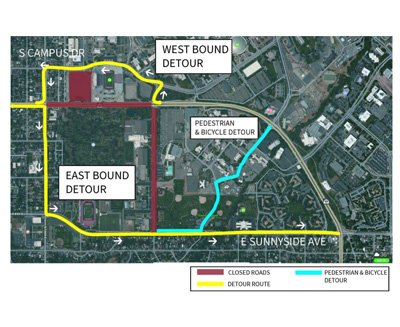 WHAT YOU WILL FIND
The Garden offers an impressive selection of herbs, specialty annuals, sun and shade perennials, ornamental grasses, roses, vines, shrubs, conifers, and trees.
We have the best selection of heirloom vegetables, native, and water-wise plants you'll find in one location.
Find plants for any situation, including bee-friendly and high-altitude plants.
Most of the plants are grown by local nurseries and many of the vegetables are grown here in our own greenhouses.
Look for our large selection of beautifully potted succulents and hanging flower baskets created by Red Butte Garden staff and volunteers.
We also offer a variety of organic fertilizers, as well as coco fiber for increased soil water retention.
Garden staff and volunteers on hand to answer your plant and gardening questions.
There are a limited number of shopping carts available, so we encourage you to bring your own cart or wagon if you have one.
We'll provide cardboard trays for carrying your plants home.
Hand and cart sanitizer stations near the entrance gate.
All Plant Sale Purchases Are Final.
Thank You For Supporting The Garden!