Thank you for making BOOtanical a great success! See you next October!
br>
October 18-30, 2023
Oaklore Academy: The Crimes of Myrtle Spurge
Get ready to embark on a spellbinding adventure at this year's BOOtanical!
Enter an enchanting world and enroll in Utah's most prestigious school of magic, the legendary Oaklore Academy. Discover the magical properties of real-life plants as you attend classes in potions, spells, cryptozoology, and more.
But beware! The noxious witch Myrtle Spurge has been lurking around Oaklore, causing mayhem and mischief. Can you complete your magical education and help banish her from the school?
Join us day or night at BOOtanical, the ultimate Halloween extravaganza. Don't miss this chance to be a part of the most bewitching event of the year!
BOOtanical Days: 9AM-5PM | BOOtanical Nights: 6-9PM
October 27 - All-Abilities Day 2-5PM (last entry at 4PM) with tickets. BOOtanical Days will close at 1PM. BOO Nights will open at 6PM on October 27.
Questions? Click on the BOO FAQ dropdown box.
TICKET PRICES
BOOtanical Days
October 18-30 from 9AM-5PM
Regular daily admission at the door.

General public: Adults $14 | Children $7 | Seniors $12

Daytime admission is free for Garden members
Pre-registration for daytime tickets not required
On Oct 27, BOOtanical Days will close at 1PM to make way for All-Abilities Day from 2-5PM (tickets required)
Don't miss these fun daytime BOOtanical activities:
Discover the past in Magical History
Learn botanical-inspired incantations at Spells
Explore the magical creatures of Cryptozoology
Dig into magical plants at Herbology
Brew up fun at Potions
Search forGroundskeeper Tilly's magic jack-'o-lanterns
Hunt for the mysterious Nimbus Plant*
Uncover the crimes of Myrtle Spurge
*A special, escape room-style challenge for guests ages 12+
BOOtanical Nights
October 18-30 from 6-9PM | Last entry 8PM
Timed admission tickets required for nighttime hours for everyone over the age of two (2).
Check out our Theme Nights – Pride Night, U Student Night, & All-Abilities Day
BOO Nights Standard Tickets

Members $13 | Public $16
No refunds or exchanges

New! BOO Nights FLEX Tickets

Members $15 | Public $18
Flex Ticket holders can reschedule their tickets to another available time slot. FLEX Ticket Terms & Conditions
Flex Ticket exchanges may take place over the phone (801.585.0556) or in person at the Red Butte Garden Visitor Center from 9 AM-5 PM daily.
Join us after dark for all the same daytime experiences and more including:
Storytellers, DJs, and puppet troupes – Performance Schedule
Collect stamps and win a special prize
Enjoy hundreds of lights and seasonal decorations exclusive to BOOtanical Nights.
Buzzed Coffee Cart serving warm drinks and sweet treats
And more!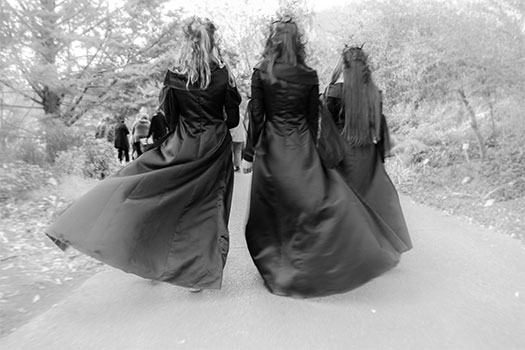 BOOtanical Performers
Special thanks to all the local performers for joining BOOtanical!
Best DJ in Utah Acorn Alley, Wish Upon A Party Character Actors, Puppets in the City, Ginger Parkinson Story Teller, HawkWatch International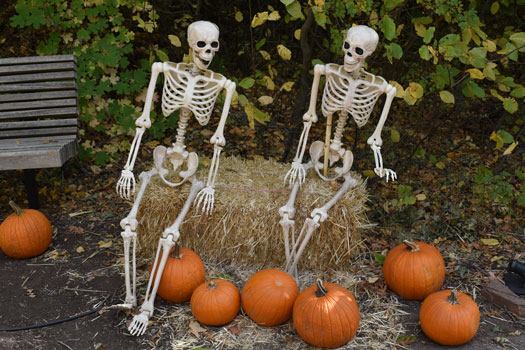 Interpretación de eventos BOOtánical en Español
Interpretación de eventos BOOtánical en Español
(BOOtanical at Red Butte Garden Spanish Interpretation Guide)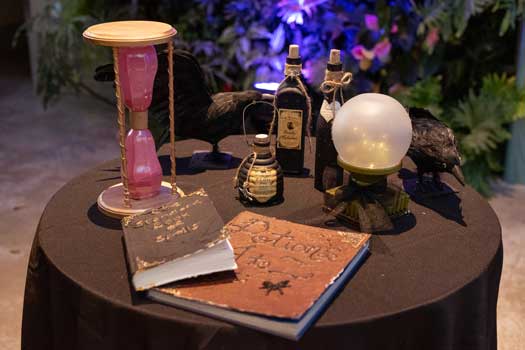 Virtual Recipes & Resources
Virtual Recipes & Resources
Free Fall Inspired Snacks
Follow along with Theresa Dvorak MS, RD, as she makes spooky Halloween snacks that everyone in the family will enjoy!
To watch the "Apple Cookie" video Click here.
To watch the "Pumpkins & Broomsticks" video Click here.
To watch the "Ghosts & Teeth" video Click here.
To watch the "Veggie Skeleton" video Click here.
To watch the "Spider PB&J" video Click here.
---
Virtual Classes & Resources
Red Butte Garden is working to provide fun, engaging, nature-based educational activities that everyone can enjoy.