Garden Membership Password Reset Instructions
Dear Garden members,
As part of our ongoing commitment to best practices, we are implementing enhanced password requirements for Red Butte Garden's digital shopping cart. You will need to reset your password to be able sign in to register or purchase Red Butte Garden events and classes.
If you have not reset your password since 06/12/2023, you will need to reset it in order to sign in to your account.
If you are unsure what email address is associated with your account, please email membership@redbutte.utah.edu
How To Reset Your Password
Step 1: Follow this link Reset Your Digital Shopping Cart password
Step 2: On the Recover Password page, enter the email address that is associated with your Garden membership and click submit.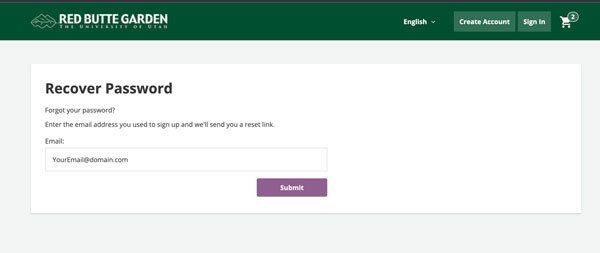 Step 3: Check your inbox for an email from Red Butte Garden with the subject line "Forgotten Password Request." Open that email and click the link.
Step 4: The link will direct you to Red Butte Garden's digital shopping cart Reset Your Password page where you will enter your new password and click submit.
New Password Requirements:
You can't use an old password
Password cannot contain your name(s), username, or organization name in any direction
Your new password must be at least 12 characters in length
Password must contain at least:

One number
One special character such as: $ % & * !
One uppercase and one lowercase letter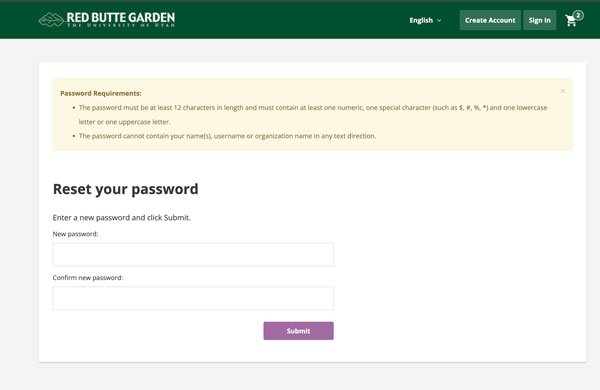 Once you have reset your password you will be able to sign up for Red Butte Garden classes, events, and more!
We appreciate your continued Garden membership. Thank you!
br>
More Membership Questions?