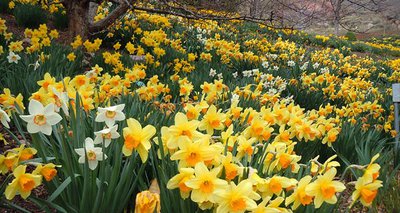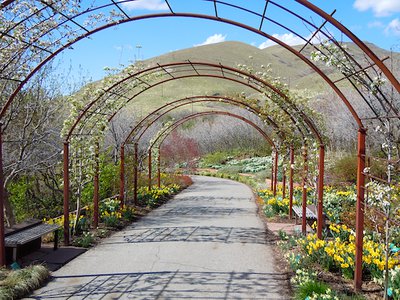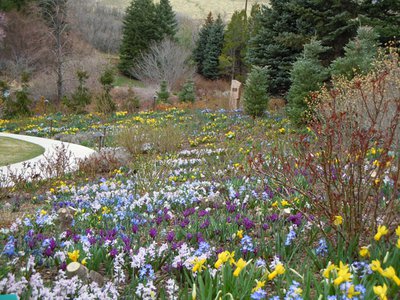 Red Butte Garden Daffodils
Submitted: Jan. 22, 2021, 12:10 p.m.
By: Crystal Kim, Horticulturist
History
Red Butte Garden presents a stunning display each spring of over 524,000 bulbs (as of March 2020), 239,000 of which are daffodils. Daffodils were chosen as a prominent component due to their long lifespan, wide diversity of color, size and bloom type, and dislike by wildlife such as deer and squirrels.
The Red Butte Garden daffodil display started in 2003 in the Four Seasons Garden. The Four Seasons Garden, situated on a hill facing the Visitor Center, is the first thing that visitors see when they enter the Garden. This garden space, composed of large masses of plants best appreciated when viewed from a distance, lends itself well to a massive display of daffodils, with varieties chosen that, due to their size and color, stand out from a distance.
The next phase in the daffodil display developed when local landscape designer, the late Peter Lassig, created a stunning design for the Floral Walk.
In the spring of 2007, Mr. Lassig walked the Floral Walk weekly to observe what was happening in different display areas along the walk that would coincide with the bulb bloom. He then created daffodil combinations for each area, with varying bloom times to extend the bloom season. In all, over 60 different varieties of daffodils were used in unique combinations that changed along the length of the Floral Walk. The bulbs were planted in fall 2007, with the first bloom in spring 2008. The design was evaluated in the spring, and additions were made in fall 2008.
In 2009, Mr. Lassig, along with horticulturists Crystal Kim and Cheryl Underwood, designed and planted the first phase of a spring bulb display for the newly completed Rose Garden. The design includes miniature bulbs such as dwarf irises and Chionodoxa that complement early-blooming daffodils. The final phase of the Rose Garden spring bulb display was planted in the fall of 2013.
Location
Red Butte Garden is home to over 160 cultivars and species of Narcissus, representing all 13 daffodil divisions. Daffodils can be viewed throughout the Garden, but the highest concentrations are found in the Four Seasons Garden, Floral Walk and Rose Garden.
At Red Butte Garden, the purpose of our Narcissus display is to show the wide variety of Narcissus, emphasizing the diversity of ornamental characteristics such as flower form, size, color, and bloom time.
As we continue to expand and diversify our display, we seek to promote the beauty and diversity of the genus Narcissus including representatives of all hardy Narcissus divisions, unusual or rare species, and representatives of taxa with notable fragrance and diverse plant size and foliage.
Description of Display Collection
In 2013, Red Butte Garden was recognized as an official Daffodil Display Garden by the American Daffodil Society. The display represents all 13 recognized divisions, which are based on floral parts and species derivation. Divisions include: Trumpet, Large-Cupped, Small-Cupped, Double, Triandrus, Cyclamineus, Jonquilla, Tazetta, Poeticus, Bulbocodium, Split-Cupped, Miscellaneous Species and Wild Forms, and Miniatures. Our display also includes many recipients of the Wister and Pannill Awards, which recognize outstanding American hybridizers and daffodil selections. CLICK HERE to read more about Daffodil divisions from the American Daffodil Society.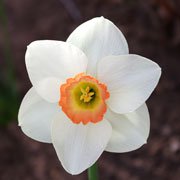 Narcissus 'Fragrant Rose'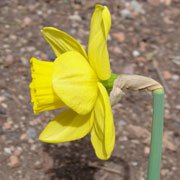 Narcissus 'Camelot'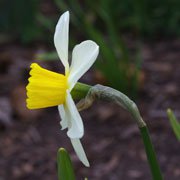 Narcissus 'Jack Snipe'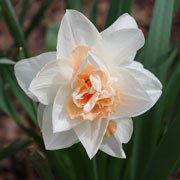 Narcissus 'My Story'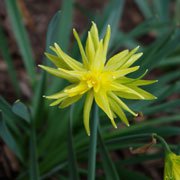 Narcissus 'Rip van Winkle'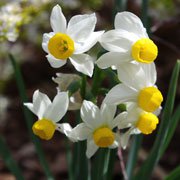 Narcissus canaliculatus
Daffodil Basics
Daffodils are members of the genus Narcissus. They originate from southwestern Europe and North Africa. Daffodils are great garden perennials. They are virtually pest-free and are drought-tolerant. They require water in the spring while blooming and growing, which is usually met by typical spring rainfall. Because they are dormant in summer, they easily tolerate hot, dry summers. They are very cold hardy, and actually require a certain amount of cold temperatures to stimulate root and flower development. If planted correctly, they will multiply and live happily in your garden for many years.
Plant daffodils in any deep, well-drained soil in full sun. Planting beneath deciduous trees is okay if the trees leaf out after the bulbs have finished for spring and if tree roots don't interfere with planting.
Bulbs are planted in the fall when the soil temperature has cooled below 54°F but hasn't frozen yet. Along the Wasatch Front, bulbs can be planted through October and even into November, depending on weather.
Bulbs are in good condition if they are firm and free of white mold (some blue-gray mold is okay and does not affect growth). Discard any soft, moldy bulbs.
Plant daffodil bulbs at a depth two to three times the diameter of the bulb, which is usually about 6-8" deep. Space bulbs about three times the width of the bulb apart so that they have plenty of room to establish and multiply.
The top of the bulb, from which the shoot emerges, is more narrow and pointed than the base. The base is rounded, with some of the previous year's dried, hair-like roots attached to its somewhat flattened bottom. Plant the bulbs pointed side up.
Fertilizer is not necessary unless you have very poor soil. If you do use fertilizer, mix it into the soil at the bottom of the hole before planting.
If it is a dry autumn, make sure to irrigate your plantings well, since roots start growing in fall. The cool weather of fall is great for growing roots.
Peak bloom at Red Butte Garden: April
For more information about Daffodils please visit the the American Daffodil Society website.
Learn about the Garden's other spring blooming bulbs HERE.