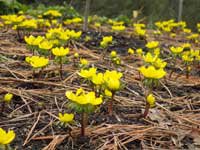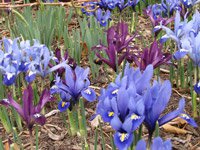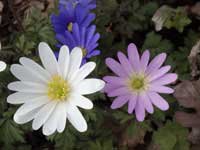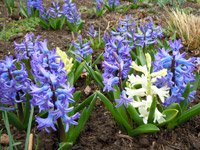 Spring Blooming Bulbs
Submitted: March 1, 2020, 12:26 p.m.
By: Cheryl Underwood, Assistant Horticulurist
Spring-blooming bulbs are a great asset to any garden. They bring a bit of color and joy to the garden when we are looking for a reminder that winter is fading and spring is almost here. If we are lucky, the parade of spring blooms will begin in March and continue through May, depending on the weather and the bulbs we've chosen.
Bulbs are divided into their own seasons of bloom and are generally labeled as: Very Early-, Early-, Mid- and Late-Spring blooming; Early-, Mid-, and Late-Summer blooming; and Fall blooming. These blooming guidelines can help when designing with and choosing bulbs for a display that will last through the spring and into summer. When designing flowering bulb displays at Red Butte Garden, bloom time is one of the major considerations along with size and color of the bloom.
Spring-blooming bulbs are planted in the fall, usually sometime in October or early November before the ground becomes frozen. This gives the bulbs time to settle in before the ground freezes and also allows for vernalization, meaning exposure to a period of cold, which is essential to spring bloom.
Below is a list of spring-blooming bulbs at Red Butte Garden and brief descriptions of some of the more striking bloomers. Daffodils, our main event, are addressed in a separate daffodil article. Tulips and Crocus are generally not planted in the Garden because deer, squirrels, and other critters dig them up to eat.
Very Early Spring Bulbs:
Galanthus ssp. (Snowdrops): Snowdrops are usually the first harbinger. True to their name, they are often seen peeking through and blooming where the snow has begun to melt away. They grow to about 5–8 inches tall and have lovely, delicate, white, pendulous blooms tipped with green accents. They can be good naturalizers if they are happy and will tolerate partial shade and moist soil. They are deer and rodent resistant and can be found along the Floral Walk and in the Medicinal and Rose Gardens.
Eranthis hyemalis (Winter Aconite): As the name implies, Winter Aconites are very early bloomers. They have cheery yellow buttercup-like blooms that sit atop lovely green collars of leafy bracts. They grow to only 3-4 inches tall and will tolerate partial shade. They will naturalize in organically rich soil with moderate moisture. Once planted, they do not like to be disturbed. They are also deer and rodent resistant. They can be found along the Floral Walk and in the Medicinal Garden.
Early Spring bulbs:
Iris reticulata, Iris histrioides and Iris danfordiae (Dwarf Iris): Not to be confused with Dwarf Bearded or Dutch Iris, Dwarf Iris are spectacular in the spring garden. Blooming about the same time as Chionodoxa, they bring an impressive display of blooms with colors ranging from deep blues and purples to lighter tones, violets, yellows, and whites. Most Dwarf Iris are quite petite, rising to only a few inches in height. After the blooms fade, the foliage can grow quite a bit taller, stretching up to 10-15" before fading as the bulb goes into summer dormancy. Many cultivars of Dwarf Iris can be found blooming in the Rose Garden, usually beginning in March.
Chionodoxa ssp. (Glory-of-the-Snow): Glory-of-the-Snow is an excellent but underused spring bulb. They produce lovely starry flowers held in sprays of five to ten blooms per stem and come in pink, lavender, and violet, delicate blues and white. Most varieties are 5-10 inches tall with a few only reaching 3-5 inches tall. Great for naturalizing as well as in rock and woodland gardens. You will find these blooming en masse in the Rose Garden as well as in the Perennial and Water Conservation Gardens.
Mid-Spring bulbs:
Anemone blanda (Grecian Windflower): Grecian Windflowers are lovely spring-blooming bulbs. The daisy-like flowers have yellow centers and are held on wiry stems above fern-like foliage to a height of about 4 inches. They carpet the ground in shades of blue, pink or white. Grecian Windflowers favor organically rich, well-draining soil in partial shade. As they mature, they will spread and naturalize. They will grow well in full sun but appreciate a little more moisture in the soil and some afternoon shade where the sun is particularly intense. The whole plant is toxic and as such is deer and rodent resistant. You will find this flower in various areas throughout the Garden.
Hyacinthus spp. (Hyacinth): Hyacinths are a well-known and favorite bulb of many. They are available in a rainbow of colors and are wonderfully fragrant. Hyacinths bloom in mid-spring in garden settings but have been favored as a forced bulb for well over a century. Many flowers are held on sturdy spikes approximately 8-12 inches high. The rigid form of Hyacinths looks best when they are designed in asymmetrically-shaped clusters, like explosions, and underplanted with small bulbs and spring-flowering perennials. Hyacinths are deer and rodent resistant due to their toxicity. The bulb itself can be irritating to the skin, so gloves should be worn when handling. Unlike many other bulbs, Hyacinths do not naturalize. You will find this flower in the Rose Garden, Fragrance Garden and in some of the seasonal spring displays.
Late Spring bulbs:
Erythronium spp.( Trout Lily): Trout Lily or Dogtooth Violet is a delightful mid to late spring-blooming bulb. They are a US native wildflower that have been hybridized for use in the home garden and seem somewhat underused. Three to five yellow lily-like flowers per stem are held 6-12 inches high. Trout Lilies are woodland flowers that grow in partial shade and require moisture-retentive, fertile soil for best results. There is a wonderful planting of Erythronium x 'Pagoda' at the entrance to the Oak Tunnel in the lower garden. Look for them in late April or early May.
Allium ssp. (Ornamental Onion): Alliums are a well-recognized late spring to summer blooming bulb. The most familiar cultivars, such as 'Globemaster', have large, purple balls of small flowers atop long stems. But Alliums come in a variety of sizes, forms, and colors. They can add a playful and other-worldly element to any garden. A favorite at Red Butte Garden is Allium schubertii. Their 12-inch flower heads contain up to 100 purple flowers, each on a stem of varying length. The effect is that of fireworks on a small scale. Ornamental onions are related to culinary varieties and do have a mild onion smell, which makes them deer and rodent resistant. They can be found along the upper Floral Walk and in the Perennial, Four Seasons, and Water Conservation Gardens.
See our Blooming Bulbs Timeline