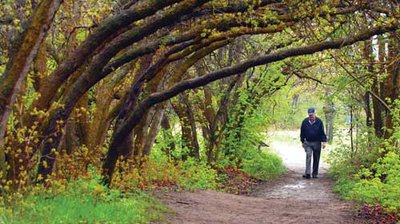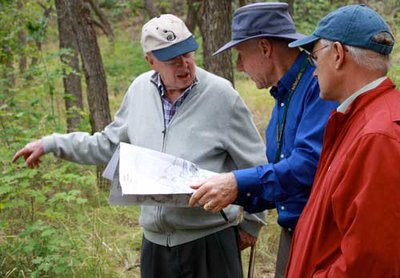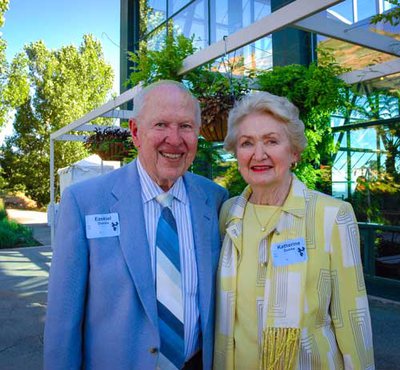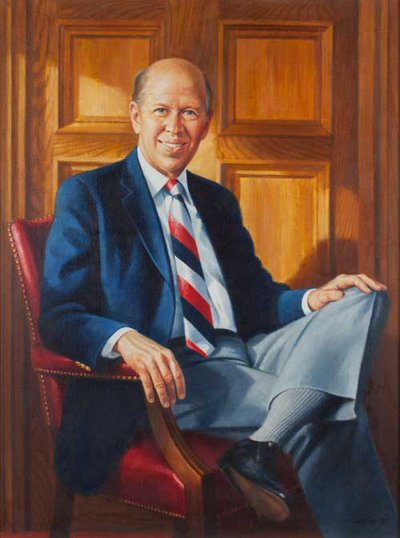 Remembering Zeke Dumke, Jr. Red Butte Garden Founder
Submitted: April 22, 2018, 3 p.m.
By: Gregory Lee, Executive Director 2003-2020
This June marks my 15th year anniversary at Red Butte Garden. During that time I had the opportunity to work with Zeke Dumke, Jr. on a number of projects. He was not your typical donor.
My first summer here we talked about the Garden's long-term parking needs at one of our frequent meetings. A few days later I found Zeke, in a sport coat and tie out in the parking lot with a tape measure measuring distances, elevations, etc., to determine how and where we could add more surface or structured parking spaces. Not your typical donor
The Garden's Martha Ann Healy Rose House project was classic Zeke. It was originally designed to be shoehorned in between the Garden's Floral Walk to the south, utility easement to the north, and the rose garden to the east, with the west wall coinciding with a now absent massive retaining wall. The Garden couldn't build it with the rest of the Rose Garden because of funding constraints, so it was put on hold for a couple of years. In the interim, we experienced tremendous growth in our concert program in our new amphitheatre and learned through experience that we needed it to be a larger facility with more storage space to handle the needs of our expanded concert series and more prominent performers. The problem was that we had no place to expand it. We were constrained by the finished Rose Garden to the east, the Rocky Mountain Power power line to the north, the floral walk to the south, and that stone wall to the west. Everyone took those boundaries as fixed constraints, everyone but Zeke. I mentioned the problem to him one day and within a week he came up with the idea to use the stone wall's position for the reception room boundary and to put all of the changing rooms, catering kitchen, and restrooms on the other side of the wall, using the steep drop in grade to put a large storage garage underneath. He correctly reasoned that the space we would be expanding into was just back-of-house space so it wouldn't take out any attractive Garden plantings or assets. So Zeke more or less designed the final footprint for the Rose House, and the architects added the details. Not your typical donor.
I often found myself thinking Zeke was born to be an architect and just got waylaid into another career along the way. I remember one project where the architects had prepared the blueprints. Our in-house project manager, Jim Bach, and I had studied them thoroughly, and with the architects assuring us that they had paid attention to every detail, we had a meeting with Zeke to show him the plans. We got to about the third or fourth page of the drawings and he quickly points to something and says, "this doesn't look right." The architects are about to say something dismissive, and then they realize, "Oh my gosh, we did make a mistake here." You should have seen the respect they gave Zeke's suggestions after that! I, myself, learned pretty quickly that if Zeke made a suggestion I didn't agree with, I better think on it overnight to see what I was missing because he was seeing something I had overlooked.
Zeke never insisted that we do what he thought best, though. Never. Now, if you didn't decide to do what he thought best, he let it go. And he moved on until the next time you met, then he would bring it up again, and again, and again, until either you came around to his way of thinking or you could show him why it was not the best thing to do. But when you could show him that there was a better option, he got right on board and helped to make it happen because all he really wanted was what was best for the Garden.
Now your typical staff person tends to think about what they need to get done that day or that week, and occasionally what they need to accomplish before the end of the season or the year. As the Executive Director, I am charged to worry about day-to-day issues, but I am also charged to think about the next several years and beyond. Now, the next several years was old news to Zeke, he was thinking 10, 15, 20, and 30 years into the future, whether it was about long-term parking needs, trail systems, utilities, income streams, you name it. One day I was weeding out some of the Garden's old files and stumbled across Minutes of a 1986 meeting of the Garden Development Committee, wherein Zeke was quoted saying, "An amphitheater will be vital to the Garden's long-term financial stability." And so the Garden's amphitheatre was built and outdoor concerts started. He was about 20 years ahead of everyone on that one. Not your typical donor.
Time and again, we have these epiphanies at the Garden and realize that this, that, or the other thing will be important to the long-term health of the Garden, only to realize that Zeke was there 10, 15, or 20 years before us. At Red Butte Garden, "vision" is not a six-letter word. It is a four-letter word spelled ZEKE. Not your typical donor.
In 2010, at the age of 86, Zeke told me he was going to retire from active involvement in the Garden on his 90th birthday. He followed that with a March 22, 2010 letter that started, "Dear Greg: Time is passing and I will make no further commitments that can't be finished or well under-way by June 2013." Then, as a reminder, he sent me another letter dated August 13, 2010, which stated, "As I have told you any project I have must be finished or started by June 2013." My response to Zeke was that I didn't want, and the Garden didn't want, to lose his wisdom or his vision. I told him if he was going to retire from his role as the Garden's number one volunteer, that I wanted to hire him as a project planner. Not your typical donor.
As June 2013 came closer, I and many others at the Garden were saddened by Zeke's impending retirement. We were going to miss his insight, his wisdom, and his encouragement. It was about that time I stumbled something in the University's central development office archives that Zeke, himself, had written. In a letter to Chase Peterson, then President of the University of Utah, dated April 5, 1989, Zeke wrote: "Dear Chase: Last June I notified the State Arboretum Board that I would devote time and money for five (5) more years. When I turn 70 in June of 1993 my plans are to be free of all commitments." Fortunately for the University and the Garden, despite his best intentions to "retire" on multiple occasions, planning for the future and bringing projects to life were embedded in who he was. I don't know that he was capable of stopping. Not your typical donor.
The opportunity to work with and to get to know Zeke has been the most treasured of all of my Garden experiences. His presence is everywhere here, not just in the projects he envisioned and brought into reality, but also in the way we think through projects and problems and how we treat each other. His and his wife Kay's kindness and graciousness towards everyone here are part of this organization's culture; his long-term view towards projects, infrastructure, and fiscal soundness influence how we approach everything; his desire to make the community a better place to live and to raise families is the foundation for our programming. He wasn't just the founder of the Garden, he was and remains its soul.
Zeke left me with many wonderful memories. I would like to share one more with you. It was Spring. I had invited Zeke to come to the Garden for a short visit with Jim Bach and me. It was about six months after Kay had passed away and we hadn't seen much of Zeke in the interim, which was unusual. What was even more unusual was that when I had seen him, his wonderful smile and the ever-present twinkle in his eyes weren't there. They weren't there this day either. He seemed "down." The sense I got was that with Kay's passing the joy of his life had been lost. It was sad, worrisome, and touching. We then started to talk with him about what had happened at the Garden over the past six months, focusing on projects he had either initiated or shown interest in. At first, he just sat there and listened, which was an altogether different kind of experience for us because he was usually a constant stream of thoughts, questions, and ideas.
After listening to us go on for a while, he finally asked a question, but without his typical energy or enthusiasm. A few moments later came another question. Then more questions and a few suggestions. Our short visit ended up lasting somewhere between 90 and 120 minutes. At the end of it I remember thinking that maybe I had seen a hint of that sparkle that disappeared with Kay's passing, but I wasn't sure.
Two weeks later, his daughter Claire, came to the Garden to work with us on her mother's memorial bench. As we were walking to the site for the bench, someone asked Claire how Zeke was doing. She said that the week previous he had told her, "I have to live for three more years." And that her response was "That's wonderful Poppa, but why three years, why not four or two or five, why three?" To which he replied, "Because I have three more years of projects I want to get done at the Garden." I don't have the exact dates for these conversations but it was three years ago this spring. Zeke made those three years, and two weeks before he died, wheelchair-bound, he saw the completion of and toured his last big project, the Kay and Zeke Dumke, Jr. Horticultural Operations Center. As he was leaving the building at the end of his tour, he announced that he was "very pleased." If there was ever anyone who, through sheer persistence and will, could keep their motor running to see something through to completion it was Zeke. I would like to think that having seen that facility through to completion, having finished his last three years of projects at the Garden, that he was satisfied and finally felt free to join his beloved Kay.
From the initial land transfer in October 1984, that dedicated the land for Red Butte Garden until now, Zeke Dumke, Jr. did so much for Red Butte Garden, and in the process for the 250,000 people who now visit us every year. In recognition of this, a few years ago the Garden's Advisory Board unanimously approved the motion "that in recognition of and gratitude for Ezekiel R. Dumke, Jr.'s seminal role in the founding of Red Butte Garden in October 1984, and his subsequent major contributions to the planning, design, growth, and funding of the Garden, that the first Monday in October is to be Ezekiel R. Dumke, Jr. Day at Red Butte Garden and that Ezekiel R. Dumke, Jr. Day will be a day of free public admittance to the Garden." He was a remarkable man who led a remarkable life and left a magnificent legacy. It was my great pleasure and an honor to be able to work with him and know him.
Written by: Gregory Lee, Red Butte Garden Executive Director from 2003-2020