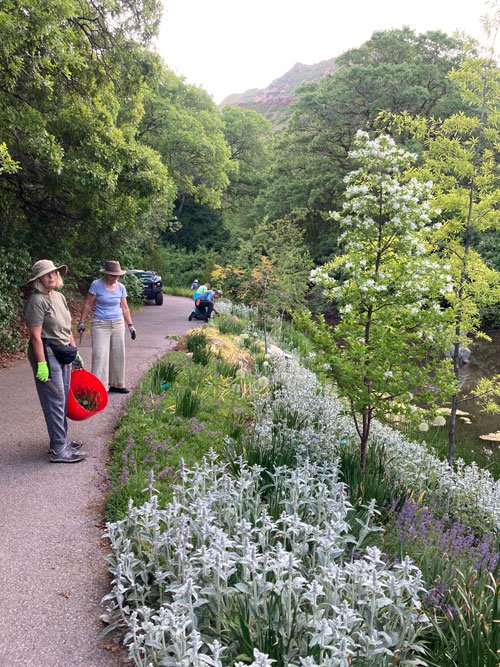 Horticulture Volunteers
Our horticulture volunteers work in the First Impression Gardens, Rose Garden & Floral Walk, Water Conservation Garden, Greenhouse, Natural Area & Water Pavilion, or Terraces & Children's Garden. Gardening activities include planting, weeding, deadheading, mulching, raking, and general garden tidying. All physical abilities and skill levels are welcome.
Plant Curation Volunteers
Plant Curation volunteers assist staff in the vital record-keeping and research of plants throughout the Garden. This opportunity allows volunteers to learn botanical plant names, curation methods, GIS skills, basic photography, and data entry. Plant Curation includes standing for short periods, walking throughout the entire Garden, and working in a variety of weather conditions.
Horticulture Area Descriptions
First Impressions Gardens:
Four Seasons, Courtyard, Visitor Center, Gift Shop Patio and Entrance Drive
The Four Seasons Garden offers some of the best views of the Salt Lake valley from the garden. It is a showcase of large masses of blooming perennials, ornamental grasses, trees and shrubs designed to show garden interest every season of the year. It is home to one of the largest spring daffodil displays in the state. This area also includes the gardens surrounding the Orangerie. When working in the Four Seasons Garden you might be working on sloped terrain.
The Entrance Drive, Parking lot and just outside the Visitor's Center focuses on a low water landscape. The plantings include many native and low water perennials, shrubs, and grasses designed in large swaths to draw guests to the beauty of what is lying within the Garden. Here there is the added element of working directly by traffic of folks coming and going from the Garden as well as the Museum.
The majority of volunteer work will be done in the Four Season's Garden, but will have necessary days in the front of the Visitor Center. Tasks generally include weeding, deadheading, mulching, light pruning and planting.
We want to provide a learning environment where we help you learn as you go. Inquisitive gardeners and questions are always welcome and encouraged.
Allergy Concerns: grass, pollen, bees
Other Concerns: steeper inclines, heat, rattle snakes, car traffic and weather
Area Description
The Floral Walk, a garden walk connecting the upper and lower gardens, is planted with a variety of garden themes – shady woodland, pear arbors, Hot Wall, Cottage Garden and annual plantings. Plant highlights: espaliered pears, paperbark and Japanese maples, waterwise plants, lilac collection, peonies, and annuals.
The Rose Garden is planted with over 100 different varieties of roses, growing alongside annuals, bulbs, perennials, shrubs and trees. The Rose Garden also highlights plants in the rose family. Plant highlights: climbing roses, shrub roses, daffodils, early spring-flowering bulbs and conifers.
Volunteers learn about a variety of bulbs, perennials, roses, shrubs and trees as they work in the Floral Walk, Rose Garden, and Amphitheatre. Typical garden duties include planting, pruning, deadheading, weeding, mulching and spring and fall clean-up. They also assist in rose care, including pruning and deadheading. Volunteers work alongside other great volunteers and have an opportunity to make new friends.
Allergy Concerns: grass, pollen, bees
Other Concerns: some work on steeper inclines, rattlesnakes, and weather
Area Descriptions
The Natural Area team provides volunteers with the opportunity to learn about the local habitat in the foothills overlooking Salt Lake City. You'll learn about the local plants and wildlife, geography, history, geology, and more!
Tasks include assisting with restoration projects, trail maintenance, invasive species removal, deadwood removal, and native seed collection. On the boundary of the urban wildland interface, our 80 acres of trails and natural habitat offers beautiful views and a unique Garden experience!
Working in the Natural Area involves physical labor (hiking, kneeling, bending, lifting, and tool use), often on uneven terrain, and working in hot and cold temperatures with threats of precipitation. Volunteers must be 18 years or older.
In the Water Pavilion, you'll mostly be helping control weeds to prepare for future designs and plantings while enjoying the ornamental grasses and sounds of nature as you work near the upper waterfall and ponds of Red Butte Creek.
You will help establish new plantings, or prune back the wild edges of the garden and creek. You never know when you'll be called upon to plant, weed, mulch, cutback, rake, remove dead wood, and more!
All gardening skill levels are welcome, however please be aware of the concerns and hazards listed below.
Hazards
Allergy Concerns - Plants, bees, wasps
Other Concerns - Steep, loose, unstable surfaces near water, loose/unstable surfaces, eye hazards in dense forest, steep hikes, weather conditions, sun exposure, heat and humidity, snakes and other wildlife.
Personal protective equipment (PPE) recommended: eye protection, gloves, sturdy footwear required (no open toe or heeled shoes), long pants and long-sleeved shirts, sun protection, snack (to share :)), water.
Some PPE and all tools are provided.
Thank you for volunteering!
Terrace Gardens & Children's Garden
You will be greeting guests and discussing what volunteering in the Terrace Gardens and Children's Garden looks like
Description: Volunteers in the Terrace Gardens can look forward to spending time working in a meadow of fragrant flowering plants and getting up close and personal with the finest culinary herbs and medicinal plants.
The Children's Garden is filled with whimsical plantings, hardscapes and garden bed themes centered on learning and fun. It includes the Sprout House, which is the hub of many of the youth education programs during the warmer months.
Need to know: Activities include weeding, deadheading, mulching and general garden tidying. A lot of time on knees and can be hard on the back at times.
Allergy concerns: Flowering plants and trees, grass, pollen, bees/wasps
Working hazards: Uneven terrain, weather, wildlife, wasps, rattlesnakes
Area Description
Come enjoy unparalleled views of the Salt Lake valley from the highest cultivated space in Red Butte Gardens. Experience a variety of drought tolerant and low water plants in the eight themed gardens. With an extensively detailed design and garden sections that range from xeric plantings of cacti and tree yucca to a water harvesting rain garden, there is something for every type of gardener. Learn the ways of passive water harvesting, hydro-zoning, and low-water food production in the Desert Harvest area. Gain an insight into the fascinating ways in which plants have evolved to use water efficiently and protect themselves from climactic extremes in the Adaptive Beauty section. Most importantly, become a part of an exemplary water-wise garden that serves as a shining illustration of the beauty that is possible in environmentally conscious landscaping. Be a steward for the shift towards more diverse water-wise gardens.
Working Conditions
Volunteers in the Water Conservation Garden can expect to help with many common gardening tasks, including: weeding, mulching, planting, deadheading, sweeping, plant cut back, and raking. Volunteers will work alongside passionate horticulturists who are eager to share their knowledge of plants as we work toward the collective goal of improving our world through gardening.
Hazards
There is very limited shade within the Water Conservation Garden. We recommend all volunteers bring a reusable water bottle, as we have a drinking fountain in our garden, running from mid-April to first frost. There is access to water year-round in the nearby Children's Garden as well. In the warmer part of the season, morning shifts will begin at 8 am, to avoid the hottest part of the day. Due to the potentially hazardous vegetation and animals, we encourage the practice of maintaining awareness of your surroundings and giving respectful space to wildlife.
**Positions not available at this time
As a volunteer at the Red Butte Garden greenhouse, you have the opportunity to work with our team to grow and care for many different kinds of plants. Most of the plants we grow are used in the outdoor gardens or inside the Visitor Center and Orangerie. Others are grown for our plant sale and various programs at the garden. Our goal is to grow the highest quality and the correct quantities of plants for the garden and its programs.
In the greenhouse, you have the opportunity to participate in and learn about a variety of growing techniques with an amazing range of plants, from bedding plants and topicals to water-wise and native plants. You may have the opportunity to work with specialty plants like orchids, water plants, bromeliads and succulents. As a volunteer, you play a big part in growing healthy and high-quality plants, as well as being a member of a wonderful volunteer and professional community.
As a volunteer, your role may include:
Transplanting seedlings, cuttings, plugs and other plants
Root pruning and repotting
Tagging, labeling and record keeping of transplants
Preparing for the plant sale - including labeling, pricing, plant care and cleanup
Pruning, pinching, dead heading, cutting back and shaping plants
Detailing and shining container and interior plants
Propagating by seed, division and cuttings
Weeding potted plants in the greenhouses, nursery and holding area
Spacing and organizing plants on the benches
Washing pots as a part of good sustainability practices
Planting, trimming, weeding, caring for and evaluating the plants in the trial beds
Sanitizing, sharpening, caring for, and properly storing tools used
Cleaning and sanitating in the greenhouse and headhouse - including sweeping and cleaning up work spaces
Working on other greenhouse production and container & interior plantscape related projects as needed
Commitment and Skills Required:
A positive attitude and willingness to do any/all of the greenhouse tasks as assigned
Full availability during our busiest time in March, April, and May
Full availability Tuesdays or Thursdays for 3 hours each week during scheduled seasons
Attention to details while tagging and recording transplanting information
Attention to details such as soil type, pot size, and planting depth