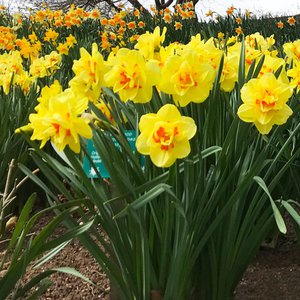 Bulbs & Blooms
560,000 Blooming Bulbs
Spring Daffodills
LOCATION:
Red Butte Garden
ADDITIONAL INFO:
Peak Daffodil Bloom In mid-April
COST:
Garden Members:
Free admission
BULBS & BLOOMS
560,000 Blooming Bulbs
Spring Daffodills
THE PROMISE OF OVER HALF A MILLION BLOOMING BULBS
Please Note: Due to heavy late-spring snows, the blooms are sleeping in a bit later this year. Visit often to see what's new.
Find a marvelous blooming bulb display each spring at Red Butte Garden during the months of April and early-May. Along with the peak daffodil bloom in mid-April, you will find thousands of other blooming bulbs during this time. Different bulb varieties peak at different times, so visit often this spring to discover what's blooming every day.
In mid-March, thousands of miniature bulbs begin bloom. Reticulated iris, Siberian squill, and glory-of-the-snow are not to be missed in the Rose Garden. Miniature bulbs are soon followed by thousands of daffodils and other blooming bulbs throughout Red Butte Garden.
You won't find many tulips at Red Butte Garden. Tulip bulbs are delicious to deer and squirrels, so we avoid planting them here.
---
Almost every fall, Red Butte Garden volunteers and staff plant additional bulbs throughout the Garden, and now we're up to a colorful array of over 560,000 blooming bulbs! Of those, over 250,000 are daffodils. Other bulbs include Allium, Anemone, Calochortus, Camassia, Chionodoxa, Cyclamen, Erythronium, Fritillaria, Galanthus, Hyacinth, Hyacinthoides, Ipheion, Iris, Leucojum, Muscari, Scilla, Triteleia, and more.
Further complimenting the blooming bulbs are blossoming trees, shrubs, and vines such as magnolia, flowering pear, crabapple, hawthorn, viburnum, wisteria, foxtail lily, lilac, and more!
Since 2013, Red Butte Garden has been recognized as an Official Display Garden by the American Daffodil Society. Our display includes 157 different cultivars from all 13 official divisions recognized by the Royal Horticultural Society of England. Our display also includes 14 recipients of the Wister and Panil Awards, which recognizes outstanding American hybridizers and daffodil selections.
Pack a picnic, take a walk along the Garden's paved paths, including the new Six Bridges Trail, hike in the Natural Area, or just relax and take in the warming spring sunshine.