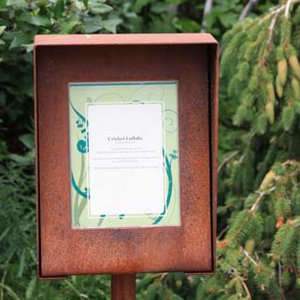 Year-Round
LOCATION:
Red Butte Garden
COST:
General Public:
Included with regular admission
Year-Round
Poetry, Inspired By The Natural World
You will find a number of stand-up display poetry boxes scattered throughout the Garden exhibiting both well-known and lesser-known poetry befitting the year-round changing seasons. Look for them along the Floral Walk.
From April 1-May 31, the Garden celebrates National Poetry Month by hosting the poems written by our local poetry contest winners in our poetry boxes.
Our 2023 Poetry Contest Winners
"Then Bulbs Will Burst into Bloom" by Stu Nolan
"Winter Speaks to Spring" by Sandra Allen
"Springtime Masterpiece" by Rachelle Kammerman
"Garden Party" by Sondra Bolander
"Between Winter Storms" by Jeffrey Steadman
"Spring" by Evey Mayfield, Youth Poet
"Spring's Awakening Hour" by Terry Broadbent
"Jewels of Spring" by Roseanne Warren
"The Season of Peace" by Taylor Dayton, Teen Poet
"Dreams of Early Spring" by Lucy Madsen, Teen Poet
"Spring is Here" by Hannah Ross, Youth Poet
If you can't make it to the Garden, read the poems here.
Special thanks to all the talented local poets who entered our poetry contest this year.
Look for our 2024 Call-For-Poetry contest in January.