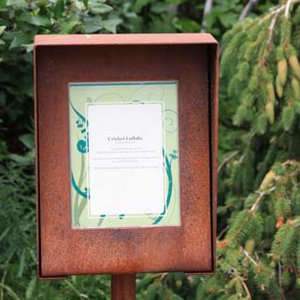 April & May
LOCATION:
Red Butte Garden
COST:
General Public:
Included with regular admission
April & May
Did you know that April is National Poetry Month? From April 1 - May 31, the Garden celebrates this unique literary art by hosting the poems written by our eleven local poetry contest winners in stand-up display boxes placed throughout the Garden. Look for them along your path. We feature other seasonal poems throughout the year.
Enter our 2023 Spring Poetry Contest.
---
2022 Red Butte Garden Spring Poetry Contest Winners
Sego Lily by Rachelle Kammerman
An Old Song of Springtime by Christopher Morgan
As if to say by Allison Munck, Teen Poet
Garden Lessons by Jenna Templeton
Early Blooms by Sara Coomes
Peacefulness by Sasha Scholnick, Youth Poet
Spring Will Come by Cynthia L. Hallen
When the Flowers Bloom by Josephine Goss, Youth Poet
Springsong's Sonnet by Mark Doherty
What's the Weather? by Camden Williams, Teen Poet
My Spring by Sam Risley, Teen Poet
Read the 2022 winning poems.
Special thanks to all the talented local poets who entered our poetry contest.